UNIQUELY DESIGNED GOLF COURSES
The inspired work of Australian golf architects, M/s. Pacific Coast Design Pty. Ltd., Eagleton reflects a philosophy of creative design, prime specifications, flawless execution and dedicated maintenance. PCD specializes in turnkey golf consultancy, covering every aspect from site master planning to detail design. Premium golf courses all over Australia and the Asia Pacific region bear witness to their unqualified success.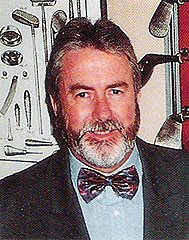 Phil Ryan Director, PCD
A civil engineer, Phil Ryan has additional qualifications in Horticulture, Turf Management and Business Studies. With over two decades of in-depth experience, his contribution to PCD's success has been both vital and far-reaching. Computer based technology plays a key role in his approach to integrated development and design. Mr. Ryan has featured as guest speaker at several turf conferences and seminars in Australia and Asia.